Lymphoma is a relatively common cancer in dogs, and sadly cancer is common in dogs with 1 in 3 developing cancer in their lifetime. Lymphoma is similar between people and dogs, and there are several different types of lymphoma. It is a cancer of lymphocytes (a type of white blood cell) and lymphoid tissues. Lymphoid tissue is normally present in many places in the body, including lymph nodes, spleen, liver, digestive tract and bone marrow. In most cases, we do not know why lymphoma occurs. The most common form of lymphoma in dogs has involvement of one or more of the external lymph nodes.
What does it look like?
There are many different forms/types of lymphoma, so the signs seen at home can be different depending on the type of lymphoma and how advanced/aggressive it is. Many pet owners notice an unusually swelling or lump under their dog's chin or behind their knees. A lot of dogs may not feel sick or may only have very mild signs such as tiredness or decreased appetite. Other dogs may have more severe signs such as weight loss, vomiting, diarrhea, excessive thirst or urination, weakness, or difficulty breathing. The severity of the signs depends upon the extent of the disease and on whether the cancer has caused changes in organ function. 
What to do at the vet?
You should have your dog examined if you notice any of the signs listed above. While all of those signs are not specific for lymphoma or even cancer, it is important to have a veterinarian evaluate your dog to determine the cause of these changes. Most dogs with lymphoma will have enlarged lymph nodes which your veterinarian will find immediately on a physical exam.
Most lymphoma can be diagnosed by a non-invasive fine needle aspirate and cytology of the lymph nodes. This involves a small needle that is used to collect blood and then inserted into the lymph node to remove a few cells which we can see under the microscope (cytology). Most dogs do not need sedation. There are then lots of different tests which can be done to fully evaluate the extent of lymphoma. Full blood work and urinalysis are always performed and provide important information regarding the effects of the cancer on body functions as well as the ability of the patient to handle chemotherapy. Chest X-rays allow us to look for enlarged internal lymph nodes or lung involvement. Abdominal ultrasound can evaluate many organs like the liver and spleen as well as the intestinal tract. A bone marrow aspirate allows us to look for lymphoma cells infiltrating the bone marrow as well as to evaluate the marrow's ability to produce normal blood cells. Flow cytometry is a test that can determine the cell of origin of the lymphoma (B cell vs. T cell) as well as other markers that give more prognostic information. This test is done by aspirating one of the lymph nodes or blood if the lymphocyte count is high. Once we have these results, we can give a more accurate prognosis about the outcome with various types of treatment.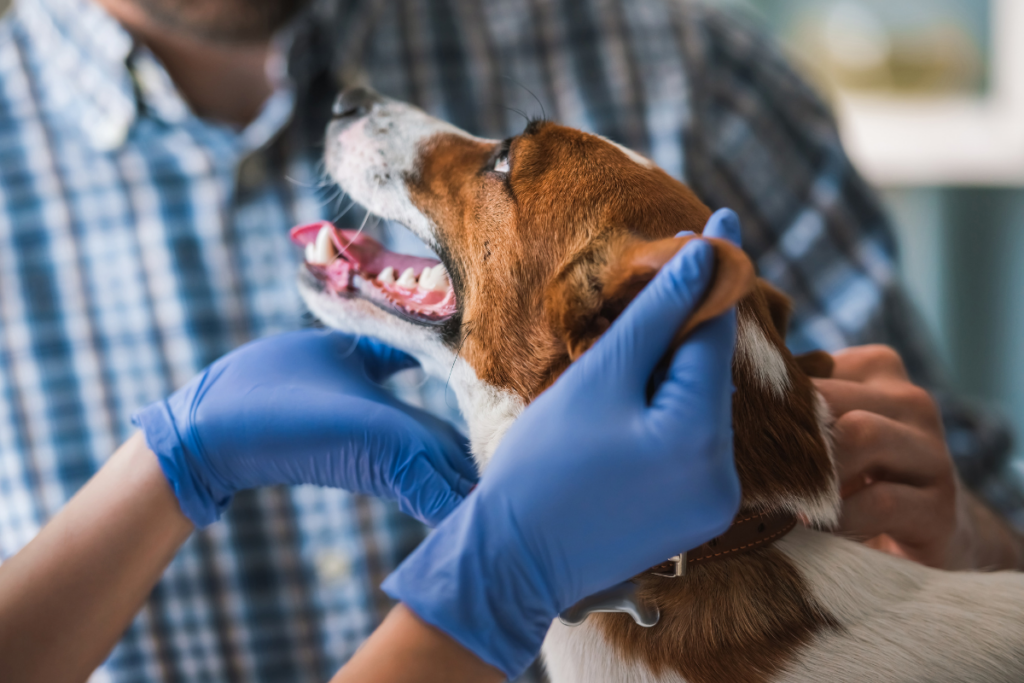 Are there any treatments?
Treatment for lymphoma depends on the type of lymphoma but generally involves chemotherapy which is the mainstay of treatment. Lymphoma is very sensitive to chemotherapy, and we can often see lymph nodes decrease in size in a few days to weeks. Dogs tolerate chemotherapy much better than people with the majority of dogs having no to minimal side effects. Most pet owners are pleasantly surprised by how well their pet is doing, and that the pet is actually feeling better because we are treating the disease!
The response to chemotherapy is highly dependent on the type of lymphoma and protocol pursued. Lymphoma can go into remission which means the complete disappearance of all signs of cancer. A remission is NOT a cure but it does allow your pet to experience a good quality of life. It is important to remember this because chemotherapy should not be discontinued as soon as a remission is achieved. The length of remission depends upon many factors including the primary site, how sick an animal is at the start of treatment, blood calcium level, B cell vs.T cell origin, and presence of lymphoma in the bone marrow.
Below are some examples of different chemotherapy options for lymphoma. It is important to talk with your veterinarian and oncologist about which protocol is best for your pet and family. A veterinary oncologist is a veterinarian with advanced training in oncology who can help educate and guide you through the difficult process of learning more about lymphoma, testing, and treatment options. You can find a veterinary oncologist from this link. Also, you can have a veterinary oncologist come to your family veterinarian's office with Pet Cancer Care Consulting. This is an online oncology consulting service to help increase the access to oncology, so pet owners can get the needed information and guidance from an oncologist at the comfort and convenience of their vet's clinic. See how it works here.
As previously mentioned, most dogs tolerate chemotherapy well, but there can be some side effects and they are important to know before starting therapy and can also be discussed with your family veterinarian and oncologist. There are many factors and reasons as to which protocol is chosen. The factors to consider are which protocol is likely the most effective for your dog's lymphoma, time commitment, travel, and finances. This can be a challenging decision and it is important to remember there are no right or wrong options and it is important to go with what is best for your pet and family. 
CHOP – Multidrug Based Protocol: The CHOP protocol combines 3 different chemotherapy drugs (Cyclophosphamide, Doxorubicin, Vincristine) and Prednisone which is a steroid. These drugs are pills (cyclophosphamide) and IV (doxorubicin, Vincristine) to attain remission time and is preferred for a first treatment regimen in many lymphoma types. This is a similar protocol that is used in human lymphoma. There are different variations of this protocol that most oncologists use and it can be 15-25 weeks long.
Doxorubicin alone: This is part of the multidrug protocol CHOP, but it can be given alone as another treatment option which does not require as many visits to the vet clinic, and less expensive because there are less total treatments. This only requires 5 treatments over 15 weeks. A cardiology consult is recommended to evaluate the heart for any decrease in contraction as doxorubicin can make this worse and lead to heart disease. Doxorubicin does not provide as good of a remission response as CHOP and appears to work best for B cell lymphoma.
Tanovea alone: This is another option and recently received full approval by the FDA to treat dogs with lymphoma. This is an IV drug given every 3 weeks for 5 treatments depending on the response to therapy. Stomach upset is common and few dogs develop skin reactions which resolve with stopping the drug and lowering the dose. Very few dogs (4%) develop pulmonary fibrosis which is hardening of the lungs which is not reversible. This has only been seen in dogs which have gotten multiple doses. Tanovea has a similar response rate as doxorubicin.
CCNU (lomustine) alone: This is another option and pills given every 3 weeks for 5 treatments or more depending on the response to therapy. This is not as effective as the other chemotherapy drugs, and studied more as a rescue drug rather than first line therapy. This can have a response in dogs with T cell lymphoma. This generally significantly lowers the white blood cell count, and can also affect the liver, so a liver supplement is always recommended.
Laverdia alone: This is a new oral small molecule inhibitor drug which is given at home as pills. This is not as effective as IV chemotherapy, but about 40% of dogs will respond to the drug for a few months. T cell lymphoma appears to respond better. The drug is well tolerated with most dogs only experiencing minor stomach upset.
Prednisone alone: This is not chemotherapy but a steroid given at home. This is commonly combined with the above mentioned chemotherapy drugs. Most dogs can feel better on prednisone alone but do not go into remission. This helps them for a while, but sadly many succumb to the disease within a month or two on prednisone alone. When prednisone is given by itself, it has been found to cause chemotherapy resistance. We do not know the exact time frame in which this occurs, but it is thought to happen when dogs have been on prednisone alone for more than a few weeks. Chemotherapy can still be given after this time, but it may not be as effective.
A new test with the company Imprimed was recently developed which helps determine from your pet's unique lymphoma which chemotherapy drugs could have the best effect. This test is done with a fine needle aspirate of the lymph nodes submitted into the companies test tubes, and then Imprimed runs an analysis to determine which drugs match the best with your pet's cancer. This may help in your decision making process.
Sadly with most types of lymphoma, we are not able to cure the disease but instead slow the progression for as long as we can before the disease becomes fatal. Generally, most dogs feel good while on therapy and can have a reasonable quality of life. It is still important to monitor their quality of life and keep your veterinarian updated on how your pet is doing.