Bone tumors are very rare in people and cats, but sadly more common in dogs. Limping can occur from injury, arthritis, and tumors. Read more to learn about this pet cancer.
Bone Tumors
Approximately 85% of bone tumors in dogs are osteosarcomas (osteo = bone, sarcoma = cancer). Osteosarcomas are highly aggressive tumors, characterized by painful local bone destruction and distant metastasis (spread to other organs). Osteosarcoma commonly affects the limbs of large or giant breed dogs, but can also occur in other parts of the skeleton (skull, ribs, vertebrae, pelvis).
The biological behavior, prognosis, and treatment of bone tumors depends on tumor type, primary site (location), and extent of disease (stage). Therefore, various diagnostic tests such as radiographs (X-rays), blood tests, and sometimes a biopsy are required to determine the most appropriate treatment.
What will You See at Home with Your Pet?
The signs associated with a bone tumor may be nonspecific. Tumors in the limbs often cause various degrees of lameness and pain. Sometimes a firm swelling grows as the tumor size increases. It is common for pain to be intermittent initially, and it may improve some with pain medications prescribed by your veterinarian. As the degree of discomfort increases, it can cause other signs such as irritability, aggression, loss of appetite, weight loss, sleeplessness, or reluctance to exercise. Some dogs may actually present to the veterinarian as a result of a fracture, due to weakening of the affected bone. Other signs may vary, depending on the primary site and involvement of underlying structures.
What will Happen at the Vet Clinic with Your Pet?
Initial exam of a pet with a suspected bone tumor often includes: complete physical examination, blood tests, X-rays (of both the affected site and the lungs), an aspirate of the bone, and sometimes a biopsy. The blood tests will give information about overall health. Some changes on blood work can also be prognostic. High ALP and monocytes are associated with more aggressive disease. A bone scan can be done at some universities to look for areas of bone spread which rarely occurs. The X-rays will show a lesion in the bone. The lesions generally have lysis and proliferation, meaning there is some bone missing and new, irregular bone has been put in its place. Osteosarcoma has a very distinct appearance on radiographs (X-rays). Treatment may be performed without a prior biopsy if the age, breed, location and appearance of the tumor are all very suggestive of osteosarcoma.
The work-up and staging (i.e. all the tests done at the vet clinic) are important for two reasons: 1) It is necessary to determine the tumor type and extent of the cancer, but also provides your vet with information regarding the dog's general health and 2). Identify any concurrent medical, bone/joint or nerve/spinal problems, all of which may influence the treatment recommendations.
What are the Treatment Options for Your Pet?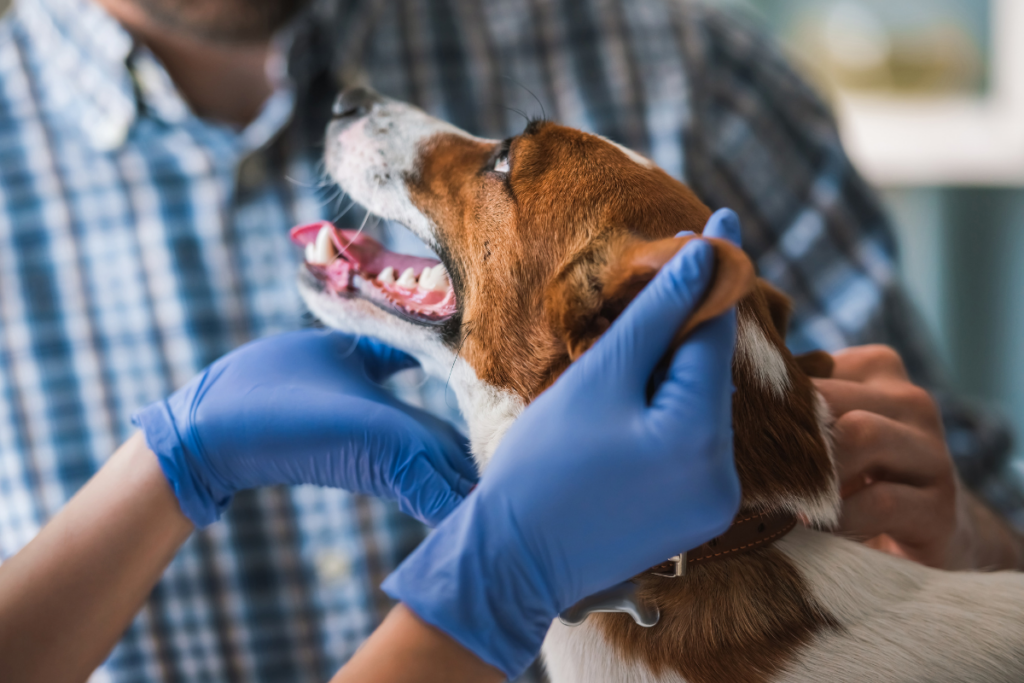 As stated above, the treatment recommendations for bone tumors depend on multiple factors, and a complete physical examination and additional testing may be necessary to accurately determine the most appropriate treatment for an individual dog.
Surgery
Surgery usually involves amputation of the affected limb, but limb sparing procedures may be an option in selected cases. Amputation is almost always well tolerated by the patient – dogs with 3 legs can do virtually everything that 4-legged dogs can do. The surgery serves two purposes. It removes the primary tumor, which is necessary for cancer control, but it also removes the source of pain, and may therefore dramatically improve quality of life. It is hard for people to imagine this because limb amputation is a very emotional. But our pets do not look in the mirror. They only live in the here and now. So for them, removing the limb means removing the source of pain. Tripawds is a great resource to learn more about amputation and talk with other pet owners.
Radiation
In patients where surgery is not possible, radiation therapy can be considered. Stereotactic radiosurgery (SRS) involves the delivery of very high doses of radiation therapy very specifically to the tumor, with the intent of permanently controlling the local tumor. This involves a CT scan for radiation planning. Then three treatments of radiation given over three days. This is a new and exciting therapy. There are only a few locations in the country which can provide this type of radiation. Talk with a radiation oncologist to learn more about this option.
Chemotherapy
Systemic chemotherapy is recommended following surgery or radiation because of the high rate of spread to other parts of the body. Most dogs tolerate chemotherapy very well and experience a good quality of life. This is very different then in people. There are several different types of chemotherapy used. There are IV and pill forms available. It is important to speak with a veterinary oncologist to learn more about chemotherapy options.
Immunotherapy
Immunotherapy is a new option which is more recently developed. This uses the bodies immune system to fight the cancer. The immunotherapy with the most data and clinical trials is by ELISA Animal Health. This therapy starts before amputation, so it is important to know this before you have surgery. There are also only limited locations in the country which provide this service. A vaccine is created from the tumor at the time of surgery. Dogs will then be treated with the vaccine to boost their specific immune system cells to fight the cancer. These cells are then collected in a process called apheresis. The good immune system cancer fighting cells are then multiplied and put back in the body as a T cell infusion. This is a new option which is showing promising results from early clinic trials.
Palliative Therapy
Another treatment option is called palliative treatment which helps to control pain, but does not treat the tumor itself. Palliative radiation therapy is an option to help treat the pain and different than the SRS described above. Radiation therapy has the potential to significantly improve the degree of discomfort in approximately 75% of dogs. The pain control lasts for an average of 2-4 months, at which time it may be repeated. Palliative radiation can be combined or alternatively given as a single agent with an injectable drug called zoledronate. Zoledronate is a bisphosphonate which decreases bone destruction and has been shown to improve cancer-related bone pain. This is given as a slow 15 minute infusion and can be given once a month. Zoledronate can affect the kidneys and should not be given in pets with pre-existing renal (kidney) disease. Another palliative option is to treat with pain medications as needed such as NSAIDs, tramadol, gabapentin, and amantadine.
When palliative therapy is pursued, the life-limited factor is the fragile bone. At some point, the bone will break which causes excruciating pain. This is when many pet owners will chose humane euthanasia. It is difficult to predict when this could occur and could be a few weeks to months depending on the severity of the bone tumor.
Sum It all Up
This is a lot of information and hard to digest when you have been told your beloved pet has a bone tumor/cancer. It is important you get all the correct information, so you know what is best for you and your pet. Every pet and family is different and not all options work for everyone. Talk with your vet and a veterinary oncologist to get this needed knowledge. Veterinary oncologists have at least 4 extra years of advanced training and all they do is treat cancer. Pet Cancer Care Consulting is a service which partners boarded oncologists with your family veterinarian to give this information and help you determine the next best steps for you pet. Look into Pet Cancer Care Consulting to see how we can help you.
Frequently Asked Questions